Buffet
The Mountain Gate Buffet
Delicious Country Cooking Every Day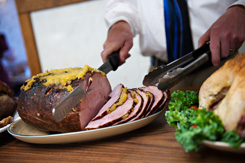 You haven't really dined country-style until you've experienced our delicious buffet, served fresh and hot every day – and at a very reasonable price. Everything is cooked and baked right here from scratch, and we take pride in the compliments we receive from everyone.
Our breakfast buffet is filled to bursting with scrambled eggs, bacon, sausage, home fries, waffles, fresh fruits and juices, and more.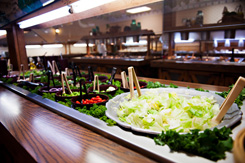 Our lunches and dinners feature our famous home-fried chicken, and each day of the week we offer something unique…from Italian night on Wednesdays to a seafood buffet on Fridays. Other specialties include Salisbury steak, liver and onions, stuffed peppers, and ham and cabbage.
Baked Goods and Gifts
Mountain Gate offers the finest fresh baked goods every day for sale such as homemade bread, cream pies, and pastries. You can also browse our unique gift shop where you'll find a variety of interesting and beautiful items and serving pieces.